Bring out the best in your people
Complete solutions to develop effective managers, highly engaged employees, and top-performing organizations
"An awesome, incredibly powerful tool"
Abby Hamilton, VP of People Development @LiveIntent
"The best tool to facilitate conversations between employees, managers and their peers."
Colleen McCreary, Chief People Officer @CreditKarma
"I cannot imagine living without it. It's an important part of our culture."
Todd Olson, CEO @ Pendo.io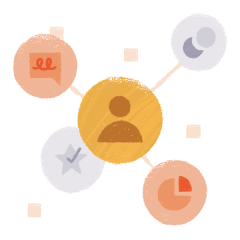 Products
Empower people and unlock their best performance.
Our Products
Holistic
We combine software, education, and community for a complete, well-integrated solution.
Inspired by science
People science is at the heart of our platform, a proven path to high engagement and performance.
Remote-first
With our centralized , holistic solution, you don't need a central office to create connected teams.
The number of teams who trust 15Five to help them build thriving workplaces.
"Simple and effective."
Kristi G
Director of People Experience
"Awesome platform for work!"
Amanda H
Community Engagement Coordinator
"Engagement done right."
Jenny L.
Customer Success Manager
"The best, most efficient system we've seen to engage our team. "
Tom S
Founder & CEO
"Best in its category and a must have tool for any high growth company"
Quirin S
CEO & Co-Founder
"It's intuitive and it works."
Gregor F
Technical Support Specialist